Long Anniversary Paragraphs For Him: If you're searching for the perfect way to express your heartfelt emotions on that special day, look no further. Our guide on "Sweet Long Anniversary Paragraphs For Him" is your go-to source for crafting a memorable message that resonates with love and affection.
Whether it's your first anniversary or your fiftieth, articulating your feelings can sometimes be a challenge. With this in mind, we have put together an array of loving, thoughtful, and deeply sentimental anniversary paragraphs for him that will not only touch his heart but also strengthen the emotional bond that you share. Dive in to find the words that mirror your feelings and make this anniversary unforgettable.
Sweet Long anniversary paragraphs for him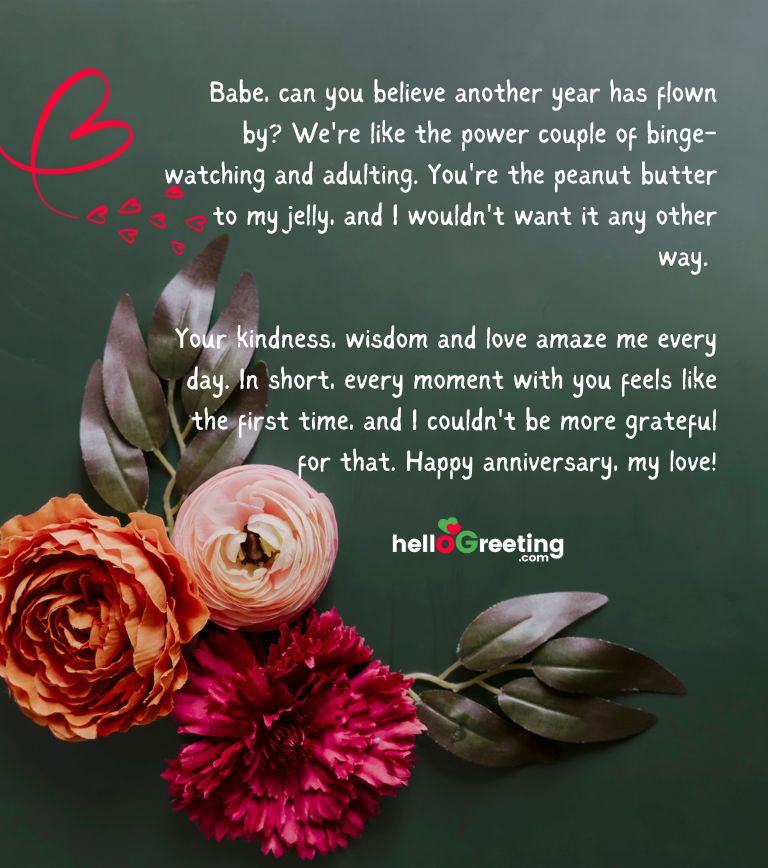 Do you remember when we first met? I was trying to play it so cool, but inside, I was as nervous as a cat in a room full of rocking chairs. Now look at us! You're my rock, my confidant, and my greatest treasure. With you, every day is a mix of an adventure and a cozy day in—and I wouldn't have it any other way. You make the ordinary extraordinary. Thank you for laughing at my jokes, even the really, really bad ones (I know you secretly love them). Thank you for being my human diary, my better half, and the best part of my day, every day.
Remember how we used to argue about who loves who more? Well, spoiler alert: I win, always and forever. You make it so easy to love you, even when you insist that your way of folding laundry is the "correct" way or when you tease me for my "unique" (read: correct) taste in music. Those little things, those tiny quirks and nuances that make you 'you,' are what I've fallen for, over and over again. I love that we can argue about the small things and come together for the big things. We're like a well-oiled machine, except we're powered by love and the occasional pizza night, instead of oil.
One of the most underrated parts of our relationship has got to be our ability to have fun doing absolutely nothing together. It's magical, really. A day with you, spent in pajamas and cuddled under a blanket, beats a thousand days doing anything else. You're the only person I'd happily be marooned with on a deserted island—provided we could get Wi-Fi and a lifetime supply of snacks, of course. This year, I've seen us grow and evolve in ways I never expected, but I've never been more excited to see where this crazy ride takes us next.
It's crazy to think that once upon a time, we were just two strangers who caught each other's eye. Now, you're my partner-in-crime, my forever date, my eternal plus-one at every awkward family gathering. In this vast universe, on this tiny planet, I found my person, and that's a level of lucky I can't even begin to describe. When I'm with you, it's like I've found the secret level in the game of life. Happy anniversary, my love. Here's to leveling up together, year after year.
Romantic anniversary paragraphs for him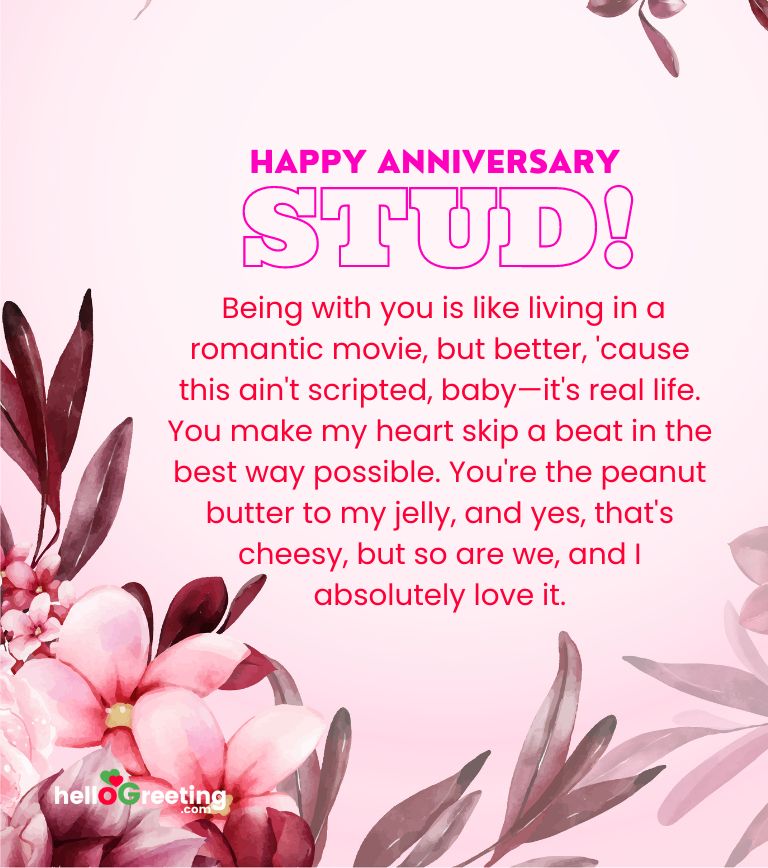 Hey babe, can you believe it's been another year? Time flies when you're having the time of your life. You're my rock, my ride or die, and the guy who still gives me butterflies like it's day one. Whenever I'm with you, it feels like I've hit the jackpot, like I've scored the ultimate win. Here's to another year of stealing each other's fries and sharing endless love. Happy anniversary, my heartthrob!
Happy anniversary, stud! Being with you is like living in a romantic movie, but better, 'cause this ain't scripted, baby—it's real life. You make my heart skip a beat in the best way possible. You're the peanut butter to my jelly, and yes, that's cheesy, but so are we, and I absolutely love it.
My love, you're the moon in my night sky and the spark in my fire. I never thought someone could get me like you do. You've seen me at my best and my worst, and you're still here, loving me like a champ. I don't know what I did to deserve you, but I'm sure as heck not letting go. Happy anniversary, handsome!
Babe, you're the guy who makes all my exes look like lessons. Being with you is like finding the last piece to my puzzle. You're the chill to my Netflix, and life with you is just one big, amazing adventure I never want to end. Happy anniversary, my king!
To my main squeeze, happy anniversary! You know you're my soulmate, right? You're the one who knows how to turn my frown upside down, make me laugh until I can't breathe, and love me like nobody else can. When we're together, it's like the rest of the world just fades away. Here's to many more years of bliss. Love you to the moon and back!
Personal anniversary paragraphs for him made for Husband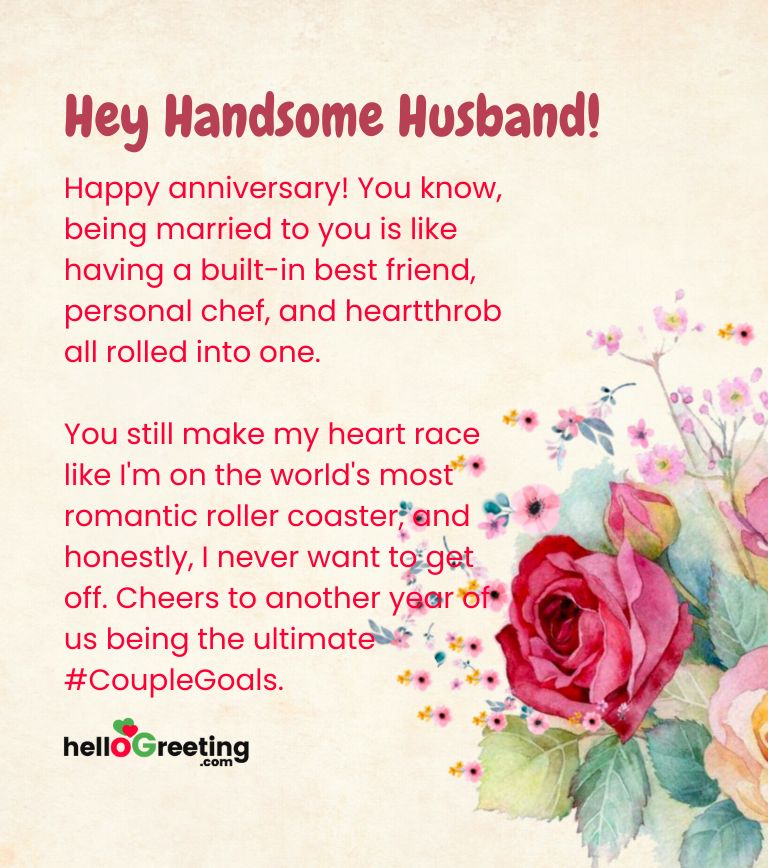 Hey there, handsome husband of mine! Happy anniversary! You know, being married to you is like having a built-in best friend, personal chef, and heartthrob all rolled into one. You still make my heart race like I'm on the world's most romantic roller coaster, and honestly, I never want to get off. Cheers to another year of us being the ultimate #CoupleGoals.
My love, do you remember the first time we met? It's crazy to think that the guy who once gave me butterflies just by walking into a room is now the man I share my life with. And guess what? You still give me those butterflies. You're my everyday miracle, and I'm grateful for you every single second. Happy anniversary, my love.
Hubby, you're the yang to my yin, the calm to my storm, and the charger to my ever-dying phone. I love how we can just vibe together, whether we're conquering our to-do lists or cuddled up on the couch. Life with you is one beautiful balancing act, and I'm so here for it. Happy anniversary, my better half.
Can I just say, you've upped my life game, babe. With you, it's like I've unlocked the ultimate cheat code: infinite love, endless laughter, and a lifetime supply of happiness. You make "adulting" fun, and there's no one else I'd rather navigate this crazy game of life with. Happy anniversary, my player two.
You are the epitome of a dream come true, my love. Every love song, every romantic movie, every fairy tale—they've got nothing on us. You're the real deal, the man who makes my days brighter and my nights sweeter. With you, forever doesn't seem long enough. Happy anniversary, my prince charming!
To my forever guy, happy anniversary! You've got this incredible knack for making my heart sing and my soul dance. You're the reason my life feels like a permanent staycation, and I couldn't be more grateful for the love we've built. Here's to the man who holds my heart, now and always. Love you more than words could say!
Special anniversary paragraphs for him
Baby, you're the one I want to wake up to every morning and fall asleep next to every night. You've seen me in morning breath and bad hair days, yet you love me like I'm the star of your favorite movie. Happy anniversary, my forever love. You make every scene in our life feel like it deserves an Oscar.
Handsome, can you believe how far we've come? We've laughed, cried, and Netflix-binged our way through another fantastic year. You're my home and my epic adventure all at once. Cheers to us for making it through another year of "for better or for worse," though let's be real—it's mostly been "for better" because of you!
To my one and only, happy anniversary! It's incredible how one person can turn an ordinary life into a fairytale. You're my rock, my love, and the guy who knows how to bring me back to Earth when I'm floating in daydreams about us. Your love is the magic in my life, and I'm enchanted by you every day.
Wow, time flies when you're having fun, doesn't it? But babe, the kind of love we share is timeless. You're my forever mood, my always vibe, and the hashtag to my trending love story. So here's to adding another year of inside jokes, cuddles, and unforgettable moments. Happy anniversary, you incredible man!
Happy anniversary to the guy who makes my heart skip not just a beat, but the whole darn song! With you, life is like a playlist of greatest hits, and every track is better than the last. You're the lyric to my melody, and baby, our love is platinum-certified. Here's to many more hit years together.
To the man who's held my heart from day one, happy anniversary! You're not just my husband; you're the wish I made on a shooting star that actually came true. With each year that passes, my love for you grows stronger than ever. So here's to the future—may it be filled with love, laughter, and countless beautiful moments with you.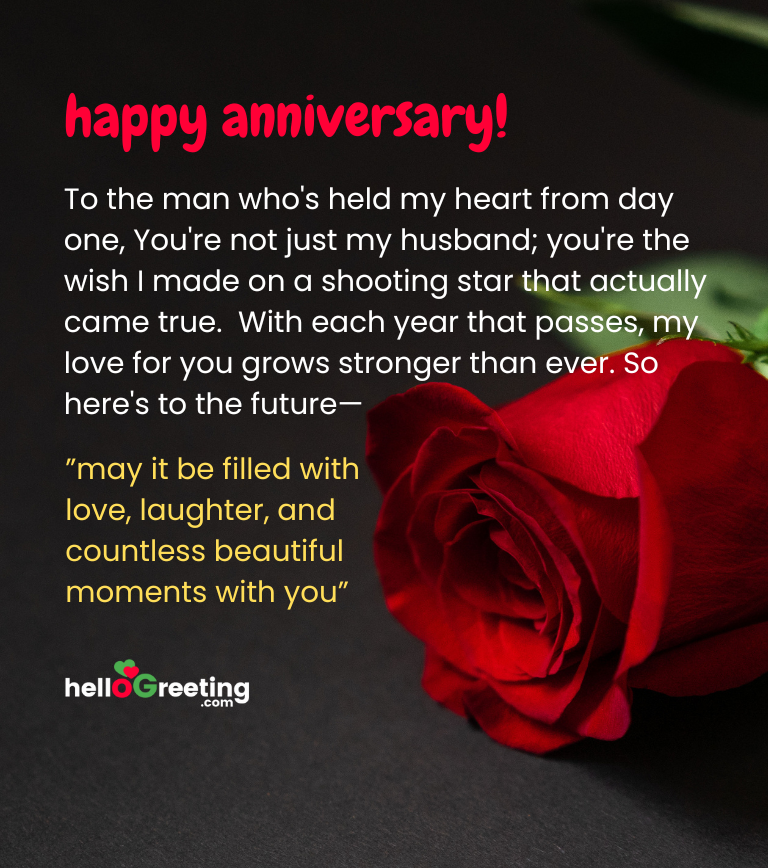 Conclusion Remarks
In the beautiful journey that is love, words often carry a weight that actions alone can't express. Crafting heartfelt anniversary paragraphs for him is not just a tradition; it's a potent way to etch your sentiments into the canvas of his heart. These paragraphs are more than just words—they're the emotional building blocks of your relationship, stacked and arranged to create an enduring monument to your love.
Remember, the most meaningful anniversary paragraphs for him don't have to be straight out of a Shakespearean sonnet. They just need to be genuine, laden with love, sincerity, and a sprinkle of that unique chemistry that makes your relationship special. In doing so, you're not just marking another year that has passed but also setting the emotional tone for many more beautiful years to come. Happy writing and happier anniversary!