Flirty Texts for Her: Are you looking to ignite a spark and capture her attention with your words? Well, get ready to take your flirty game to the next level with our collection of irresistible flirty texts for her. Whether you're in the early stages of a budding romance or you want to keep the flame burning in a long-term relationship, these flirty text messages are sure to blow her mind. From playful banter to sweet compliments, we've got you covered with a variety of flirty texts that will leave her smiling from ear to ear. So grab your phone, put on your charm, and let's dive into the world of flirty texts that are guaranteed to make her heart skip a beat. Get ready to unleash the power of your words and make a lasting impression on that special woman in your life.
Sweet Flirty Messages for Her to Smile
My love, I cannot help but lose my way in your enchanting gaze every single day. Hence, I must always keep a map with me to find my way back to reality.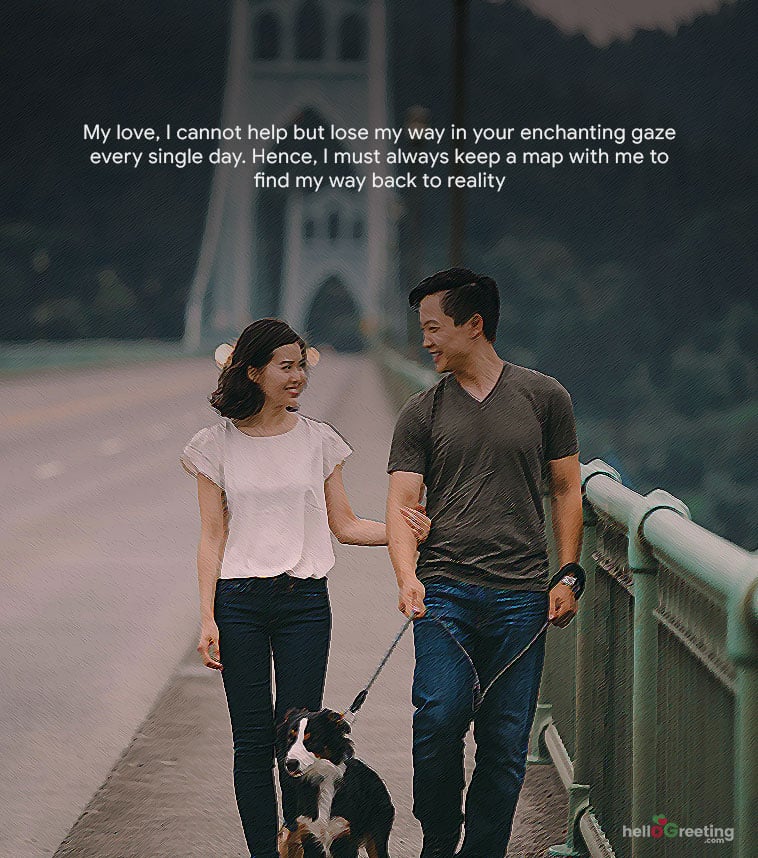 I adore the way our fingers intertwine, fitting together perfectly as if they were made for each other. My dearest love, I long to embark on this journey with you for eternity.
My heart yearns to embrace you and taste the sweetness of your lips, for I cannot believe that such a heavenly being could exist in this world. Because you are so sweet!
I met you and realized you have exactly the face that I dream of every night. When I'm with you I wonder If I'm awake Or I'm dreaming!
I yearn to be wrapped in your embrace constantly, my love.
Hey gorgeous, just a friendly reminder that your smile has the power to make even the dullest moments sparkle. Thank you for bringing so much joy into my life.
Your smile is my favorite work of art. It's a masterpiece that leaves me in awe every time I have the privilege of witnessing it.
You're the reason I believe in magic because your smile is pure enchantment. It casts a spell on me and makes me fall deeper in love with you.
Your smile is like a secret code that unlocks my heart. It's the sweetest invitation to happiness, and I'm always ready to accept it with open arms.
How can one keep getting more and more beautiful every single day? Please tell me so that I can sleep in peace.
That teenage feeling of being in love is really what you give me. I'll always cherish you as my first love, and I'm willing to let go of the past to build a new life with you.
From the future, you must be. You are my first love because I see my future with you. I'm glad to have fallen in love with you in the present because we'll have a lot of time to cherish each other.
Tonight, my first love, I have a very strange thought. Someday, someone will win your heart. Let me try, please. Ah, let us embark on this journey and see where our hearts take us!
Made of stone, I thought my heart was. Your beauty could melt a stone like wax, and I never knew it. My melting heart, please save it!😊
Why is it that first love is so special that it can never be replicated? In my arms, I held you close in my dreams. Making this real is what I want now. That, will you help me with?
My favorite thing about you is your smiling face, even though you have many lovely curves.
With every look of yours, my heart fills with the warmth of first love and I can't help but smile. Girl, keep on looking! 😊
Whether you go or stay, it doesn't matter. Anyway, you are the magnet that will pull me with you! 😊
Apart from Flirty Texts for Her You may also like-
Flirty Good Morning Texts for Her
Good morning, beautiful! Just wanted to let you know that you're the first thing on my mind when I wake up. Can't wait to see your lovely face today.
Rise and shine, sunshine! Sending you a virtual hug and a million smiles to start your day off right. You're the reason mornings are my favorite.
Hey cutie, I hope your morning is as radiant as you are. Wishing you a day filled with laughter, love, and endless possibilities.
Good morning, sleepyhead! Just a friendly reminder that you're the reason my mornings are brighter and my dreams sweeter.
Wake up, gorgeous! The world is waiting to be dazzled by your beauty and charm. Can't wait to see you and make today unforgettable.
Hey babe, I hope your morning is as amazing as you are. May your day be filled with endless smiles and flirty adventures.
Good morning, sweetheart! Just a little text to remind you how much I adore you. Can't wait to wrap my arms around you later.
Rise and shine, my love! I hope this day brings you all the joy and happiness you deserve. Counting down the hours until I see you again.
Hey there, cutie pie! Just wanted to send you a virtual kiss and let you know that you're the sweetest part of my mornings.
Good morning, beautiful! I hope your day is filled with sunshine, laughter, and moments that make your heart skip a beat. You deserve all the happiness in the world.
Wake up, sleepyhead! The world can't wait to see your stunning smile and experience your infectious energy. Sending you all my love this morning and always.
Hey gorgeous, rise and shine! Just a little reminder that you're the most amazing person in my life, and I'm grateful for every moment we share together.
Good morning, sunshine! I hope your day is as lovely as your presence in my life. Let's make this day even more special with our flirty banter and endless laughter.
Rise and shine, beautiful soul! Today is another opportunity to create magical moments together. Let's make the most of it and turn this day into a fairytale.
Hey there, sleepy beauty! The world feels brighter and more exciting with you in it. Wishing you a morning full of happiness, laughter, and a hint of flirtiness to kickstart your day.
Flirty Texts for Her to say Good Night
I didn't say anything when you first stole my heart. But you are stealing my heart too! Really, it has started to bother me now. Let's have sleep together and not steal it away!
I can't imagine my life without you. I can't imagine a better way to start my day than waking up to your beautiful face every morning. I can't help but think about you every night before I drift off to sleep. I'm so grateful to have you in my life.
I can't help but feel a rush of excitement every time I catch a glimpse of your gorgeous face, day or night.
If only I could be the lucky pillow that gets to feel your warmth every night. Oh, how I long to be by your side, whispering sweet nothings into your ear as we snuggle up and indulge in some intimate pillow talk. Sleep tight, gorgeous.
Well hello there, gorgeous! I can't help but daydream about you, hoping you'll grace me with your presence in my dreams and paint them with your vibrant energy. I hope you have the sweetest dreams, my love.
I can't help but think about how lucky I am to have you in my life. Your presence alone brings warmth and light to my darkest nights. My heart races at the thought of your delicate touch, my lovely.
I can't bear the thought of closing my eyes and missing even a moment without you. I can't resist staying up all night just to hear your sweet voice!
Tonight, I can't decide what's more captivating; your gorgeous face or the mesmerizing moon!
Oh my darling, the moon must be envious of the love that radiates from our window. Oh, I see you're a little jealous of competition, but don't worry, you're the only one who has my heart. 😉
Would you be willing to join me in a night of sweet dreams about each other? My dearest, you are the alpha and omega of my heart. I adore you so much! Goodnight.
I can't seem to close my eyes, as your enchanting presence lingers in my mind, keeping me up all night. I hope you're feeling the same way I am, my love.
Romantic Flirty Texts for Her
Hey gorgeous, just wanted to let you know that you're the sweetest thing in my life. Can't wait to see you and taste those lips.
You're my favorite kind of beauty – inside and out. Can't stop thinking about you, babe. Counting down the seconds until I can hold you close.
If there were a dictionary entry for "perfection," your name would be right next to it. You make my heart skip a beat every time I see you.
You're the missing piece that completes my puzzle. Can't wait to explore the depths of our connection tonight. Get ready for a wild ride, baby.
Just a little heads up: my heart races and my mind goes blank every time you walk into the room. You have that effect on me, and I love it.
Your smile is my sunshine on a cloudy day. Can't wait to wrap my arms around you and get lost in the magic of our love.
You're the reason my nights are filled with dreams of a passionate future together. Can't wait to make those dreams a reality, babe.
Just wanted to say that I'm crazy about you. Your beauty, your laughter, your presence – everything about you drives me wild with desire.
I can't help but fall for you deeper with every passing day. You've stolen my heart, and I never want it back.
You're not just beautiful; you're intoxicating. Your mere presence ignites a fire within me that can't be extinguished. Can't wait to get lost in your embrace.
Just a reminder that my love for you grows stronger with each passing moment. You're the most amazing woman I've ever known.
Your kisses are my addiction, and I'm in need of a fix. Can't wait to taste the sweetness of your lips again, my love.
Being with you feels like a dream come true. You're my fantasy turned reality, and I can't get enough of you.
Your love is my favorite kind of drug. It's addictive, exhilarating, and leaves me craving for more. Can't wait to overdose on your affection.
You're the masterpiece I never knew I needed in my life. With you, everything feels right, and I'm grateful for the love we share.
Flirty Good Afternoon Texts for Her
Hey gorgeous, just wanted to say you're on my mind. Enjoy the rest of your day!
Sending you sunshine in the form of a text. Hope you're having a fantastic afternoon, beautiful.
Just a quick reminder that you're the highlight of my day. Can't wait to see you later!
Every time I think of you, my afternoon gets brighter. Hope yours is as amazing as you are.
Hey cutie, hope your day is going well. Can't stop smiling since the last time I saw you.
Wishing I could teleport to your side right now. Missing your smile and the way you brighten my afternoons.
It's a crime to look as stunning as you do in the afternoon. Keep slaying, babe.
Just thinking about your irresistible charm makes this afternoon feel extra special.
The sun is shining, but you're the real source of warmth in my life. Enjoy this flirty afternoon message!
I'm officially addicted to your company. Can't wait to spend more amazing afternoons together.
If I could, I'd make every afternoon about you and me. Until then, know that you're always on my mind.
Your beauty is like a magnet, drawing me closer to you with each passing afternoon.
Just a gentle reminder that I'm here if you need a flirty distraction from your busy afternoon.
I can't help but smile whenever I think of you. Hope this message brings a smile to your face too.
Hey gorgeous, hope you're having an afternoon as wonderful as you make my world.
Let's Wrap Up
In conclusion, flirty text messages can be a powerful tool to express your feelings, create anticipation, and deepen your connection with the woman you desire. The art of flirting through text messages allows you to be playful, charming, and thoughtful, all while building a sense of excitement and attraction. Remember to tailor your texts to suit her personality and the stage of your relationship, ensuring that your messages come across as genuine and sincere. With our curated collection of flirty texts for her, you now have a treasure trove of words that can captivate her mind and leave her yearning for more. So go ahead, seize the opportunity to surprise and delight her with your flirty prowess. Harness the power of these texts and watch as your relationship blossoms into something extraordinary. Happy texting and may your flirty endeavors bring you closer to the woman of your dreams!