Why Welcome Messages for new Boss are essential?: Welcoming a new boss to the team is an essential moment that sets the tone for the future dynamics and success of the workplace. As employees, expressing warm and cordial greetings to your incoming supervisor not only demonstrates professionalism but also fosters a positive and harmonious work environment. Crafting a well-thought-out welcome message for your new boss is an excellent way to make a lasting impression and showcase your team's enthusiasm for the journey ahead.
In this comprehensive article, we present a carefully curated collection of 100+ welcome messages for a new boss, tailored to suit diverse professional settings and personalities. Whether you're seeking formal, friendly, or a perfect blend of both tones, these welcome messages will inspire you to convey your warmest wishes and extend a heartfelt embrace to your new leader.
Not only do these messages convey your team's readiness to collaborate and support, but they also emphasize the significance of their role in ensuring a smooth transition and a prosperous future. With a focus on maintaining a professional atmosphere while exuding genuine warmth, this compilation will equip you with the right words to initiate a strong and positive rapport with your incoming boss.
So, let's delve into this treasure trove of welcome messages, designed to leave a lasting impression and create a welcoming ambiance that sets the stage for a successful and harmonious work relationship with your new boss. Whether you're a seasoned employee or a fresh face in the company, these messages will guide you in expressing your sincere enthusiasm and extending a warm greeting to the newest addition to your professional family.
Let's See Some Nice Warm Welcome Messages for New Boss
Congratulations and greetings! With your expertise and dedication, I am confident that we will achieve great things together. You will serve as an excellent role model for the rest of the team. I'm excited to get started.
We're thrilled to have you in command of our ship. We look forward to the development of our professional relationship as you guide us to greater success. Hello and welcome aboard!
We're thrilled to have you on board as our new boss. We're a hardworking group eager to learn from the best. We have high expectations for you and are eager to learn from your wealth of knowledge. Welcome to the group.
We are thrilled to have you on board. We believe you will be able to use your skills and expertise to propel the company forward. Welcome to the team, boss.
Hi [name], Congratulations! Welcome to the most diligent group! We have faith in your expertise and are excited about what you will add to the organisation.
Dear [Name of Boss], Greetings from the team! For the good of the company, we hope you will appreciate our company. We're eager to accomplish anything under your direction.
We appreciate having you on board. We think you are the ideal candidate for the position and will make a significant contribution to the company's development. Boss, welcome to the team!
The entire team is pleased to have someone with your level of expertise on board. We are thrilled to have you here at the business and are extremely happy to have you. Hello and welcome.
We feel privileged to have you join our team. We appreciate your decision to work with us. We are confident that by working together, we can advance to the next stage.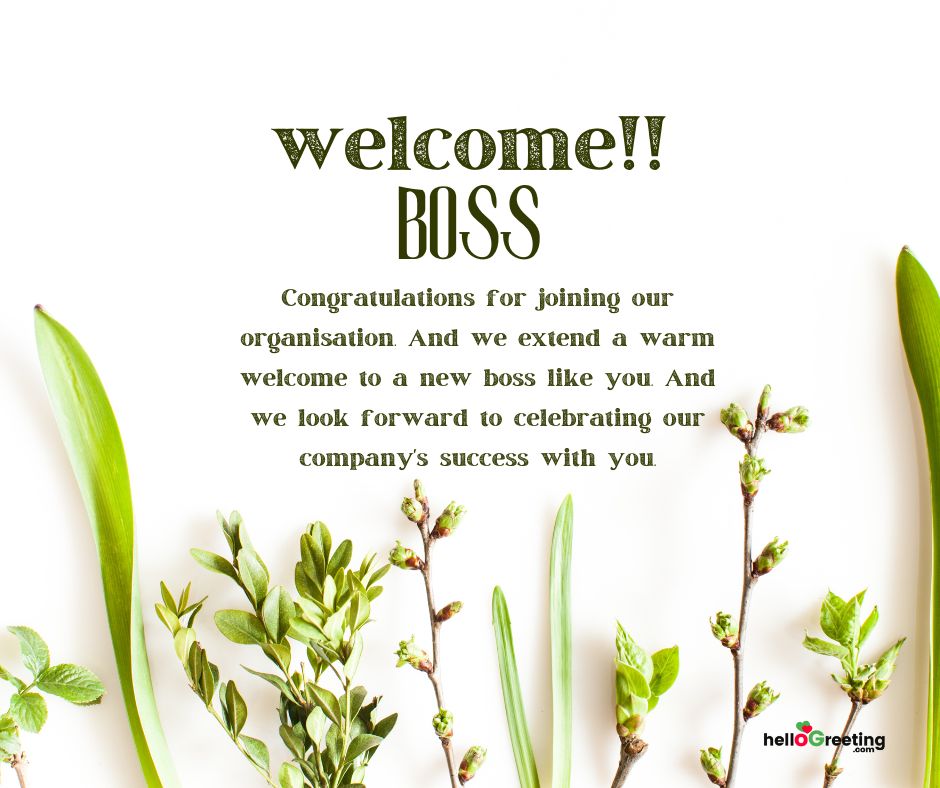 Friendly Welcome Messages for New Boss
We are thrilled to have you as part of our group. We believe that our business can advance thanks to your skills and natural talent. Dear New Boss, welcome to our organisation.
Congratulations for joining our organisation. And we extend a warm welcome to a new boss like you. And we look forward to celebrating our company's success with you.
If you continue with the work today, our company will be happy to have you. We're going to have a blast together, boss.
Our business is always working to rise to the top. And our business needs skilled individuals like you. We are happy to have you on board as a member of our team.
We are pleased to welcome our new boss to our organisation. Sir, you were noticeably absent from this company. thankful that you will now lead us.
Our managers, personnel, team members, and supervisors extend a warm greeting to you. Now that you are a part of our industry, you have the advantage of being able to succeed at work every day.
You are young and inexperienced but nonetheless so skilled and knowledgeable. For our organisation to succeed, your assistance is crucial. We'd like to welcome you and wish you well.
Your decision to join our firm has made our company happy. You could be one of our business' greatest assets, in our opinion. We are eager to learn about your business strategies.
Greetings, new boss. We are excited to work beside you in the same space. Additionally, we are quite interested in learning about your ambitions for our expanding organisation.
We are happy to have you here with us. On behalf of all the management and team members, we would like to welcome you to our company.
We are thrilled to welcome you as a team member on behalf of the entire team. We have high hopes for your new plans for our business.
You are cordially invited to visit our office. Your amazing talent will be a fantastic addition to our office and team. We are very excited because we will have a successful relationship with you.
You may Like: 99 Best Boss Day Messages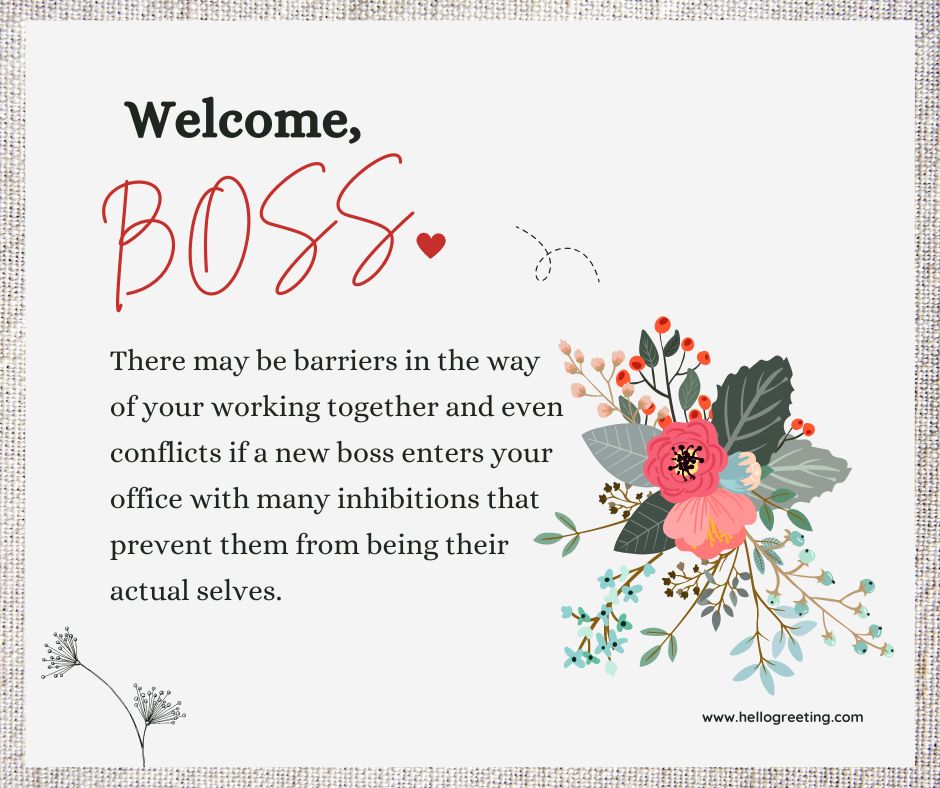 Short Welcome Messages for New Boss
There may be barriers in the way of your working together and even conflicts if a new boss enters your office with many inhibitions that prevent them from being their actual selves.
This shouldn't occur at your place of business, and to prevent it, you need to make sure your new boss feels accepted and included. By doing this, you'll encourage your boss to interact with your team and offer fresh ideas that could help your team and you reach your objectives. Here are a few succinct welcome letters for a new employer you can use to defuse any conflict with your new boss.
With you around, we are more motivated to work together and are more upbeat about taking on new challenges as a team.
We are amazed to have you on the team, eager to pick your brain for new information because you seem to be the ideal mentor, and eager to achieve big things with you.
Congratulations on being a new employee of our organisation. We are also grateful to have a skilled team leader who is eager to share their knowledge with us.
This is a time for celebration for the entire firm, and we have great faith that your aptitude and ability will contribute to the expansion of the business.
Our organisation is happy to have you on board, and we look forward to seeing all the skills you can bring to the table that will help us achieve all of our intended objectives.
We are thrilled to have you as a part of our team and are looking forward to working well together.
We are all excited to work with you and are really interested in learning about all your future plans for the development of our company.
Good luck on your adventure as a member of our team! We also wish you a long and prosperous trip.
Our entire team extends a warm welcome to your office, and we believe that your impressive skills will enhance our work environment and help us forge a successful relationship with you.
We are all thrilled to have you on board and excited about all the fresh ideas you have for our business.
We are all ecstatic to have you on board and are hopeful that your intelligence, skill, and courage will be a huge asset to our business.
We are all happy to have you working here and are confident in your ability to help this team succeed in whatever they do.
You are a godsend in times of need, and we are grateful to have such a brilliant boss in our organisation.
I'm happy to have you as a member of our team. We are all thrilled to have you with us and are eager to work with you to advance the company.
We are highly intrigued by your talent and natural aptitude and are looking forward to working with you.
We can't wait to start working with you since you will help our business expand and succeed to new heights.
Congratulations on joining our organisation! We wish you success and look forward to converting your investment into a lucrative bond.
Our organisation is celebrating right now because we think you are the ideal candidate for this position.
We're happy to welcome you and have you as a member of our team, and we fully expect to succeed together in achieving all of our goals.
You may Like: 99+ Best Farewell Messages to Boss to Wish Luck & Say Adieu
How to greet a new boss and make a good impression?
Making a new Boss at ease and allowing him/her a great break should be your first priority.
When meeting someone new, always keep an open heart and mind because doing so can help you understand them better.
Avoid being overbearing when your new boss arrives and let them handle their firsts so that they understand that the necessary space is provided there.
They might be a little reserved when they first join a new organisation, so you need to pay close attention to hearing and understanding them.
Don't forget to inform them of all the working procedures you use at your place of employment so they can fit in.
SUM-UP
Beginning a new job as a boss might be intimidating. Making and sending a warm welcome greeting to your new employer might help them feel comfortable and get settled in right away.
Keep your message brief and to the point, whether you're sending an email, text, or greeting card. Maintain a cordial tone and express your gratitude for having your employer on board.
---
Other professional Messages: