Happy Nurses Week Messages and Wishes: The amount of effort required to care for even one sick person would be enough to drive any mature man to sweat, but nurses are expected to undertake this work their whole careers. They are the embodiment of humanity, as they provide solace to the sick, the elderly, and anybody else who is in need. It cannot be denied how generously this service has been provided, and neither can the credit they so well deserve. In light of this, let us all be sure to show them an abundance of gratitude during Nurses Week, which is from May 6 to May 12 every year.
Are you considering the best way to honour these individuals? To get the ball rolling and get the nurses' spirits up for Nurses Week, start by sending them some sincere letters of thanks. Please scroll down to see the message that you may send to your employees, coworkers, or any nurse that you know that works in the nursing profession.
Nurses Week Messages To Staff
During Nurses Week, I extend my best regards. Your dedication and perseverance in restoring people's health are remarkable.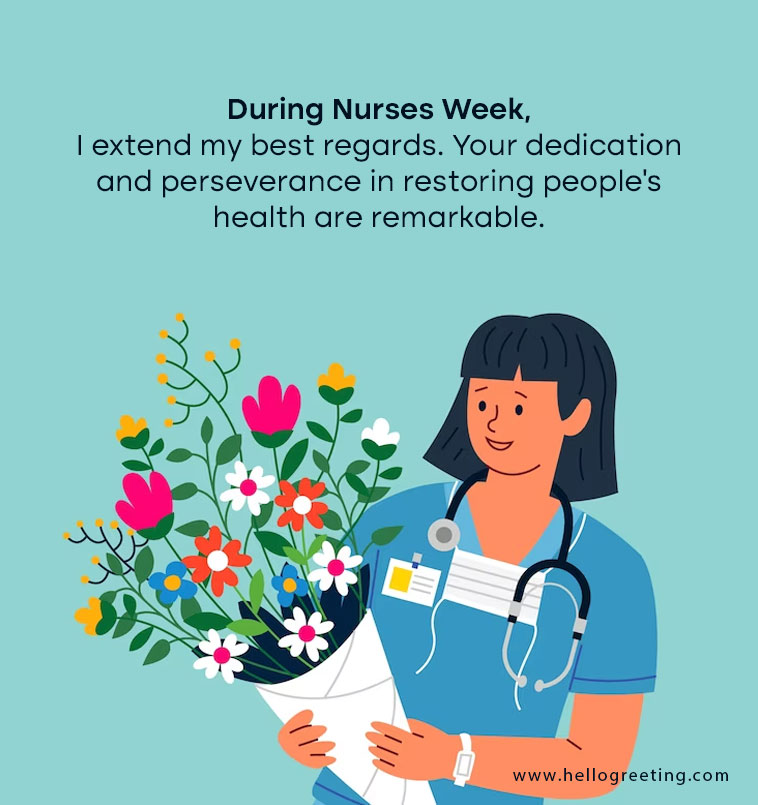 Best wishes for Nurses Week to my colleague. Your generosity and professionalism make you a genuine role model.
Happy Nurses Week to a competent nurse who is also a delightful acquaintance! There is much to be learned from you.
Thank you daily for assisting our team and patients. I am privileged to work with such a skilled nurse as you.
Happy Nurses Week! You excel at bolstering the team's morale and assisting patients in their recovery. You are an invaluable asset to our healthcare facility.
During Nurses Week, the contributions of nurses like you are recognised and celebrated. You are a fortunate member of my healthcare team. Thank you for all you do.
Happy Nurses Week! Your commitment to health, benevolence, and compassion is inspiring. You are an exceptional nurse and person; thank you for everything you do to enhance your patients' lives.
Happy Nurses Week! Everyone can learn from your commitment to the nursing profession. Thank you for being an exceptional nurse and coworker.
Happy Nurses Week Messages
We value the nurses' unwavering professionalism, compassion, and care. We will always remember you as the unsung heroes of our healthcare system for all you have done to ensure our health.
As we honour Nurses Week, we would like to express our appreciation and reverence for you all. Thank you for providing daily physical care and psychological support to patients and their families.
During the pandemic, our nurses have been at the vanguard of this fight. Your valour and tenacity cannot be matched by anything. I wish everyone a joyous Nurses Week.
You jeopardise your own health and safety to assist those in need, and for that we are eternally grateful. I hope you enjoy nurse week. There are no adequate words to describe how valuable you are.
Today, during International Nurses Week, we recognise the remarkable efforts of nurses around the globe. Your commitment to enhancing the lives of others and the standard of healthcare in our country will forever inspire astonishment.
The term 'nurse' and 'angel' should be synonymous. Happy Nurses Week to all of our staff's angels!
Your outstanding efforts and commitment make our healthcare facility much better. Thank you for being so trustworthy.
Happy Nurses Week! You are the pillars of our healthcare team, enabling us stand tall and overcome obstacles.
Sincere appreciation to our nursing personnel for providing such exceptional care. We recognise the sacrifices you make and the compassion you display.
During nurse's week, we would like to extend our deepest gratitude and respect to all the nurses who selflessly service our communities with their souls and minds.
Happy Nurses Week! Thank you for demonstrating compassion for the patients while simultaneously managing medical complexities.
Related Post in Special Day Wishes Category
Happy Nurses Week Messages To Colleague Nurse
"Enjoy your Nurses Week! Your selflessness, kindness, and perseverance are much appreciated. I appreciate all the work you put into taking care of other people.
"Hoping you have a fantastic Nurses Week, you amazing person you! We can all learn from your wisdom, generosity, and optimism. Continue to shine!
Wishing a fantastic coworker a great Nurses Week! Your dedication to always provide excellent service is inspiring. To the most incredible nurse in the world, thank you.
Happy Nurses Week to a very exceptional nurse! We can all learn from your dedication to work, compassion, and perseverance. Continue your excellent job!
To a coworker who always goes the extra mile, Happy Nurses Week! It's inspiring to see someone with your level of commitment to nursing and care for their patients over the long haul. Have fun with all the attention you've gotten.
I hope you have a wonderful Nurses Week! You are an invaluable member of our team because to your extensive training, professionalism, and ability to reassure patients at their most trying moments. For all you do, thank you.
Wishing a remarkable coworker a great Nurses Week! Your dedication to helping people and making a positive difference in their lives is inspiring. Continue your fantastic effort!
Wishing a fantastic nurse a happy Nurses Week from the bottom of my heart! The world is a better place because of your compassion, understanding, and perseverance. We appreciate your hard work and dedication as a valued team member.
Sending warm wishes for Nurses Week from a great coworker. Your dedication to your patients, knowledge, and professionalism are inspiring. Please know how much your daily efforts are appreciated.
A special nurse deserves a special Nurses Week. We can all learn something from your commitment, toughness, and poise under pressure. We appreciate all you've done to help our team succeed.
We appreciate everything you do for us and our patients every day. It's a privilege to assist patients with a nurse of your calibre.
Best wishes for a wonderful Nurses Week! You do amazing things for the morale of the crew and the speedy recovery of the patients. You are a tremendous asset to our hospital.
During Nurses Week, people like you will be able to honour the achievements of nurses throughout. Your presence on my healthcare team is a blessing. I appreciate all you do.
Best wishes for a wonderful Nurses Week! Your commitment to wellness, compassion, and mercy is admirable. You are a wonderful nurse and person; your efforts to better your patients' lives are much appreciated.
Best wishes for a wonderful Nurses Week! Your commitment to nursing is an example for the rest of us. To top it all off, you've been an incredible nurse and coworker.
On this Nurses Week, I send you my best wishes. Your dedication and perseverance in helping others become healthy again is inspiring.
Respected coworker, I wish you a wonderful Nurses Week. You are an example to others due to your professionalism and generosity.
I hope you have a lovely Nurses Week, since you are a beautiful person as well as a skilled nurse. You have a lot to teach us.
Let's Wrap Up
The field of nursing is essential to maintaining human life. Many people's lives are improved because of nurses; they are a force for good in the world. That's why it's so important to show gratitude to the nurses in our lives by Sending Happy Nurses Week Messages during nurses week.
Do you know any nurses in your immediate circle of friends and family? Send them a note in honour of Nurses Week to let them know how much you appreciate everything that they do. Share social media messages of appreciation for nurses during Nurses Week. Don't forget to tell your coworkers and staff about Nurses Week if you're employed in the healthcare industry.