Best Retirement Wishes For Dad: All those looking for Happy Retirement wishes, messages and quotes for your father will get here 90+ exclusive collection of wish messages and quotes to wish your dad a Happy Retirement.
As fathers approach retirement age, it is natural for them to experience a wide range of emotions. On the one hand, retirement can be an exciting opportunity to enjoy their newfound freedom, while on the other hand, it can be a daunting prospect as they think about leaving a career they've had for many years. It is important to acknowledge their mixed feelings and show them that you are truly happy for them. That's why sending heartfelt, sincere retirement wishes and messages to your dad is the perfect way to honor his hard work and dedication, while also acknowledging his new chapter in life.
Here are some ideas for how to express your gratitude and congratulations to your dad on his retirement. Whether you opt to write him a letter, purchase him a meaningful retirement gift, or share a heartfelt retirement toast, any of these meaningful gestures will surely make your dad feel appreciated and honored on his special day.
Happy Retirement Wishes for your Father
We're so thrilled for you, dad, that you've retired! You have worked hard for so many years, and we're all so proud of you and your accomplishments. May this new chapter of your life bring you nothing but joy and happiness!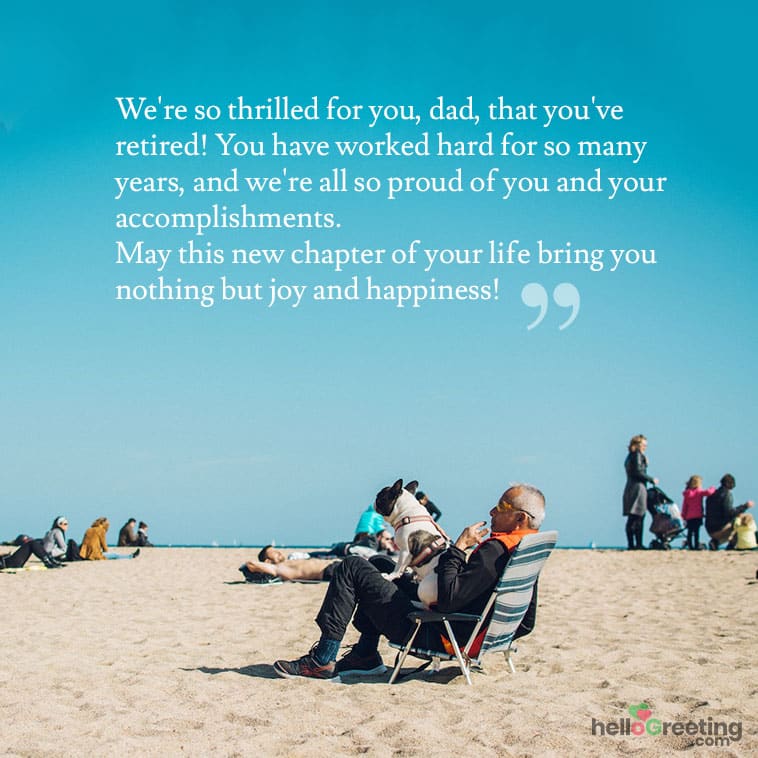 Throughout your retirement, I wish you health and happiness.!! Happy Retirement Daddy, Enjoy every second of your life!!
We are really proud of you, dad, as a family. May you now get the life you deserve. I'm So Happy for you. Enjoy your retirement, dad!
I wish the world's best father the very best in his retirement. I'm thrilled about how much time we will now get to spend together, dad, and I hope that every new day will be better than the last. I swear I'll make your retirement the best it can possibly be.
Your dedication and methodical approach to your job have inspired me. You will enjoy a retirement that is absolutely unique, I just know it. Enjoy the break and take it easy. I hope you have a wonderful retirement.
Dad, I hope your golden years are as sweet as honey!
You old rascal, you still have it! Happy Retirement and all the best !!
The news that you have officially retired makes our hearts sing with delight. Now we can spend some quality time with you. We hope for your days to shine and shine like a diamond. Dad, enjoy your retirement!
Finally, the days for which I have prayed have come. I get to be with you all the time now. Daddy, I hope you have a long and healthy retirement wishes father!
Yay! Our beloved father has at long last retired! Dad, I hope that every day of your retirement, the joy you give us will be returned to you in the form of seas.
Dad, congrats on your retirement! I'm hoping that each day of your retirement will be enjoyable and carefree. Wish you happy Retired Life Ahead !!
Happy Retirement Messages for Dad from Son
Your work ethic has served as an incredible example for me, dad. Your mere presence has been so motivating. Congratulations on your retirement dad!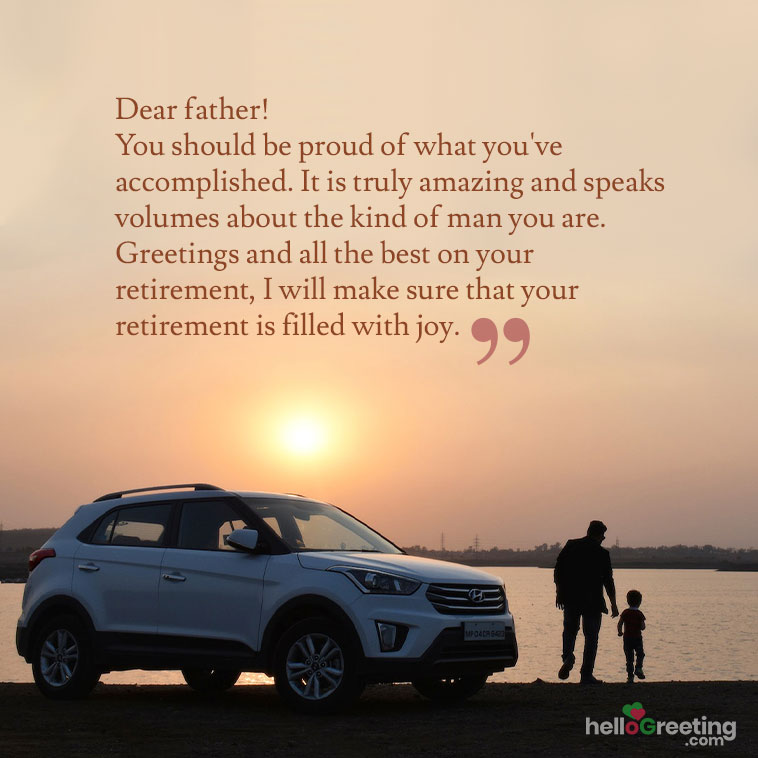 Dear father! you should be proud of what you've accomplished. It is truly amazing and speaks volumes about the kind of man you are. Greetings and all the best on your retirement, I will make sure that your retirement is filled with joy.
We haven't actually talked much about your retirement's biggest advantage, but it will allow you to spend a lot more time with me. I wish we all enjoy every movement together !
The years of labour have paid off, and it is now time to take advantage of the freedom that comes with retirement. I'm overjoyed for you. May your retirement brings more joy & happiness !!
May you have lovely, lifelong memories during your retirement. Put your feet up and do nothing for as long as you like because it's time to enjoy your golden years! Dad, enjoy your retirement!
I'm congratulating you on your retirement and am confident that these will be some of your best years. Have a wonderful retirement, dad.
Let there be fun and relaxation in the upcoming days, weeks, months, and years. Wish you relaxing future with these retirement wishes !!
Retirement is a big issue, dad, whether you like it or not! We are ecstatic that you will be able to relax and enjoy yourself. Dad, congratulations, you are the best dad!
You've already put in the difficult work by working long hours to support your family. Now for the enjoyable part! I hope you have an amazing retirement day ahead.
You've taken care of us for so long that it's time we took care of you! Your retirement will be better than you could have ever imagined thanks to us. Well done, dad!
Retirement Wishes for Dad from Daughter
After working your entire life, you deserve to unwind. You merit it. My workaholic father, you deserve a happy retirement. Your daughter loves you. Congratulations and best wishes for you.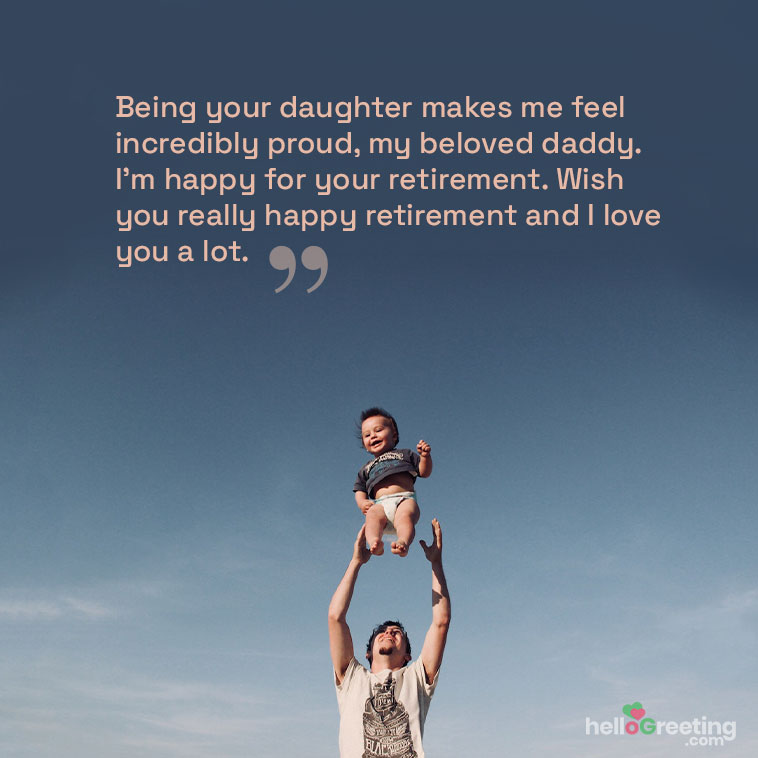 Being your daughter makes me feel incredibly proud, my beloved daddy. I'm happy for your retirement. Wish you really happy retirement and I love you a lot.
Dad, my sincere congrats. Your watch is now over, and I hope you take full advantage of your retirement. Now I can see my father at home every day, I Love You Dad.
Dear Dad, your sole priority now that you are retiring is to live a happy and healthy life. Enjoy Your Retirement. I'm incredibly happy to be your daughter.
May your life after retirement be as lovely and bright as the sunflower, my beloved father! Best wishes for a happy retirement! Congratulations Dad
Dad, you can now consider yourself a retiree. Since not everyone gets to experience this time of life, I am happy for you. I pray that as you move forward, you will be given more chances to fulfill every single dream that has been tucked away in your heart. You're welcome, Daddy!
Please relax and enjoy yourself; these are your best days of your life, Daddy. I hope your retirement is happy and full of new experiences. Dad, I love you.
Dad, it's time to put the tension behind you. May you enjoy the best years of your life and prosper like never before. P.S. Please know that I have always enjoyed being your daughter.
You're retiring now, so relax and enjoy yourself. May we have many wonderful moments to celebrate each day. I'm really proud of you, dad. Gratifying retirement.
Dad, congrats on your retirement. Your commitment to and enjoyment of your work were undeniable. I love you so much, Daddy. Now relax and have fun.
Every time you visited over the weekends; I could see how much you craved for relaxation. Now that you have the blessing of retirement, you will experience less stress, more sleep, and more fun with me. Throughout your retirement, may happiness and good health be your companions!
I'm sending you my best wishes for a prosperous retirement. Dad, you are loved from your daughter.
The difficult work and stress are over. It is now time to take a break, unwind, and savour every moment of your existence. Gratifying retirement. Love you Dad, you are the best Paa.
Dad's retirement means break from work, you worked harder for our better life, For me you are the best dad in the entire world, I am thankful to you for all you did for me tirelessly. Here is my retirement greetings for you, Wishing you a really happy retirement days.
I can easily remember your hard working days for us, you were always been my hero dad. You did lot for family and its time for you to relax and I will take your responsibilities on me. Wish you Perfect Retirement Dad from your angel.
Happy Retirement Messages to Dad
Live a carefree life where no boss will fear you, where you won't have to get up early, and where you won't have to say yes to the boss. You are now in charge of your life. I hope your retirement years are fulfilling.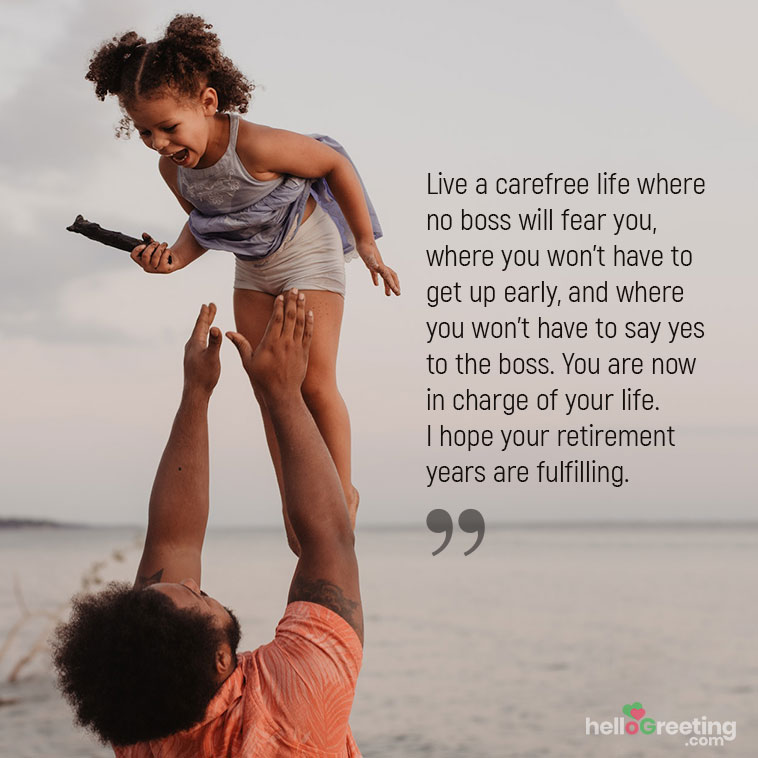 You've had a successful career and fulfilled your goals; nonetheless, now is the time to enjoy retirement and find joy in your life. Enjoy your life to the fullest. Life is great.
"Those busy schedules are no longer an issue; enjoy your today while grinning widely. Do what you wanted to do right now since life is giving you the opportunity. Before leaving for an excursion, begin imagining and achieving your goals.
I wish you a very happy retirement since it will offer you the freedom to do anything you choose, including live a free life and fly. Take a trip down memory lane and fulfil all of your fantasies right away.
The good times are back; grin from the bottom of your heart and count your blessings; success brings you joy, and success brings you calm. Always be joyful.
"I wish you a joyful retirement. Enjoy your life right now. Forget about your worries, and spend time with your loved ones. You are welcome to stay here forever.
The flexibility that comes with retirement allows you to establish your own schedules without being constrained, travel to the locations you've always wanted to see, and wake up whenever you choose. Gratifying retirement.
Your supervisor can no longer dictate to you. You now have your own business. Wish you a happy retirement and all the best for the future endevours.
You have given your all in serving the firm, and consequently, the nation. You deserve to have the best life ahead of you, so it's time for you to relax. Enjoy a rewarding and enjoyable retirement.
Time to labour and time to rest—"there is a season for everything and a time for every purpose under the sky." It's time for you to relax. You well-deserved retirement now Have fun in retirement.
You may have missed a lot in life, but it's a long road, and even if you're retiring from your job, you're not giving up on your dreams. Make your dreams come true by dreaming them.
Give your family some space, laugh with friends, and allow life to go on uninterrupted. This is your retirement, so discipline yourself, congratulate yourself, and don't let anybody else run your life.
In retirement, every day is a holiday, so make the most of the party mood by booking a trip, going on an outing, or organising a get-together with friends. Nobody asks you to explain yourself. Enjoy your life as much as you want right now. Gratifying retirement.
15 Unique Retirement Quotes for Dad
Year of hard work need some appreciation as well as motivation. You may find the following retirement quotes for dad suitable to boost his enthusiasm. Say Happy Retirement Dad including one of these quotes.
"The best time to start thinking about your retirement is before the boss does."
– anonymous
"Retirement is the ugliest word in the language But Happiest for Life."
-Ernest Hemingway
"Retirement is the time to do all the things you've never had time for."
-Winston Churchill
"Retirement at sixty-five is ridiculous. When I was sixty-five I still had pimples."
-George Burns
"Retirement is like a long vacation in Las Vegas. The goal is to enjoy it to the fullest, but not so fully that you run out of money."
–Jonathan Clements
"Retirement is the beginning of an endless weekend."
-Unknown
"Retirement is not the end of the road, it's the beginning of a new adventure."
-Unknown
"Retirement is not the end of your financial life, it's the beginning of a new financial reality."
-Suze Orman
"Retirement: No work, all play, until you run out of money."
-Unknown
"Retirement is when you stop living at work and start working at living."
-Unknown
"Retirement is when you trade your salary for time."
-Unknown
"Retirement is a full-time job with no deadlines."
-Ross Perot
"Retirement at sixty-five is ridiculous. When I was sixty-five I still had pimples."
-George Burns
"The glory of young men is their strength, gray hair the splendor of the old."
-Bible
"For I know the plans I have for you," declares the LORD, "plans to prosper you and not to harm you, plans to give you hope and a future."
-Verse from Bible
Happy Retirement Images for Dad with Quotes
You may love these beautiful images crafted by team Hello Greeting carrying special Retirement message for your dad. Wish your father on his retirement with these Retirement Images / Cards to impress your dad.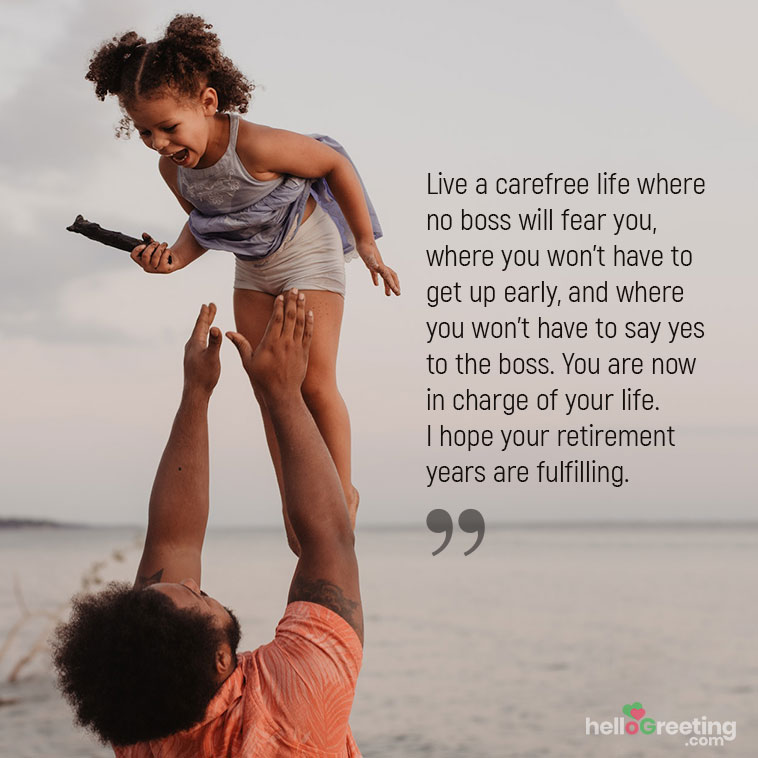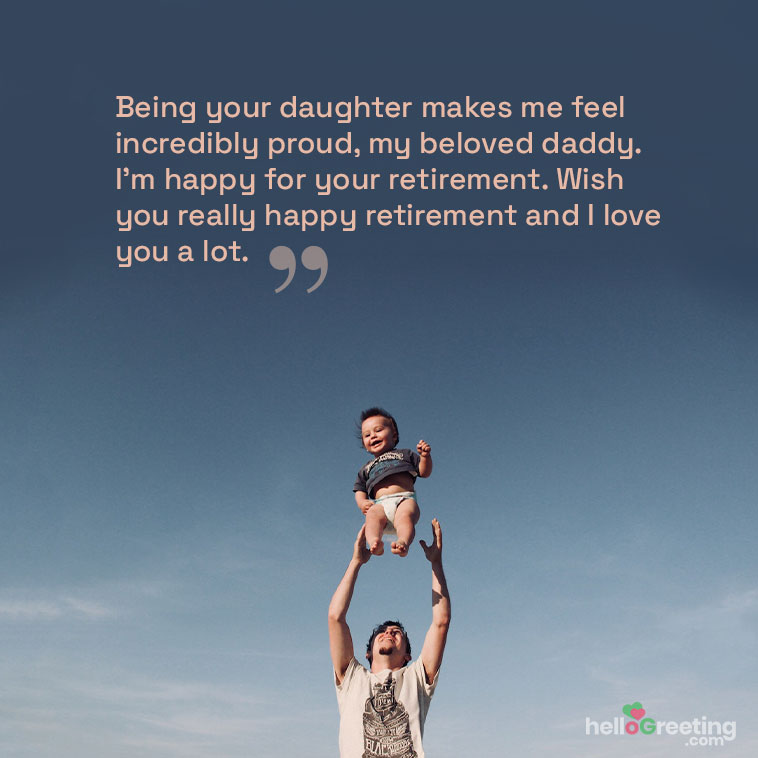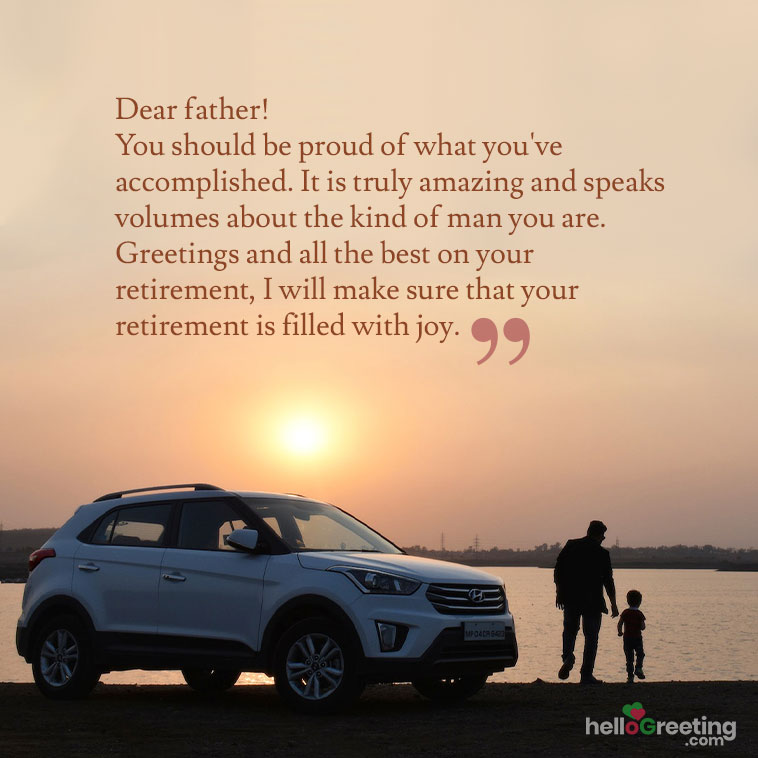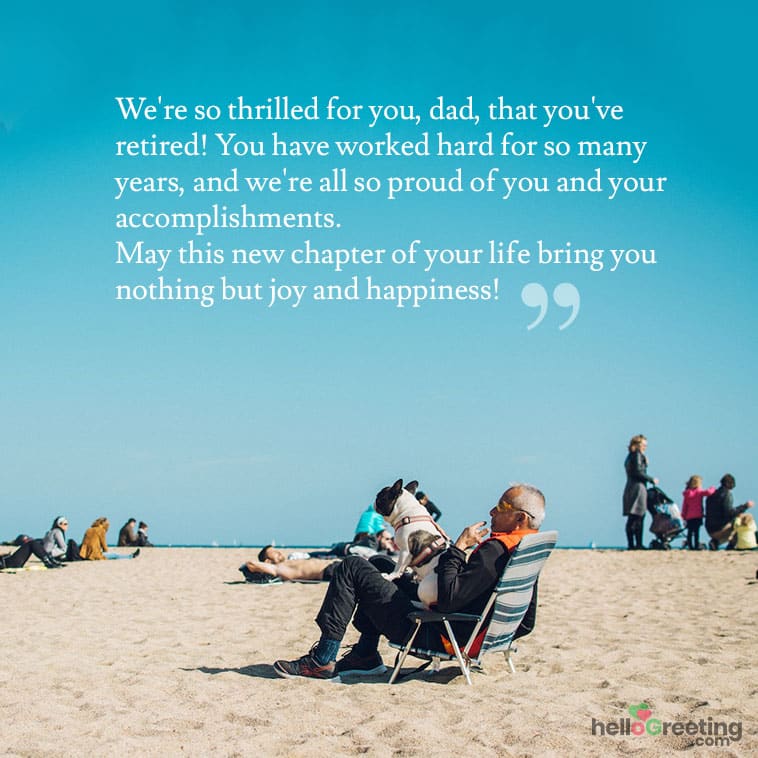 How to write Best Happy Retirement Wishes for Dad
Remember these few but important points if you are going to write Retirement wishes for dad and you want to make his day special.
Congratulate Dad for a lifetime of hard work and dedication
Acknowledge his successes and how he has positively impacted those around him
Wish him a joyful transition into retirement, with time to relax and pursue his passions
Express your love and gratitude for his guidance and support
Celebrate his retirement with a special gift or lasting memory
Conclusion
With these Collection of retirement wishes for dad, you can show your appreciation for all his hard work and dedication throughout the years. Retirement is an exciting new stage of life and these wishes will help make it even more special. By wishing him the best for this next chapter in his life, you can let him know that you are always there to support him in any way you can.
---
Read More